Anybody that has ever played a sport in their life knows this, when you have the right people and the right chemistry, sports becomes more than a hobby/job, they become a family.
At this point many know about what happened to Isaiah Thomas' sister. If you haven't, in brief, IT's sister passed away after a single-car accident took her life last Saturday morning. The Celtics had a playoff game on Sunday, not a long time for Isaiah to have time to cope with this tragic loss. Despite this, an emotional Isaiah suited up last night, and the outcome of the game is irrelevant, suiting up is big enough. He scored 33 points, received an out-poor of gratitude from the Boston fans, and somehow keep himself together for the length of the game.
Isaiah's performance is courageous, gutsy, and respectable. Not everybody could go out and preform like he did last night, but he is not alone in great performances under tragic conditions like this one.
Edinson Volquez wins a 2015 World Series game for the Royals while his father passes away mid-game 
Imagine this? You take the mound to help your team not knowing your father has passed away until after. God bless Edinson Volquez for this, this is truly remarkable. He game back after attending his fathers funeral to pitch later in the series and while his performance wasn't his greatest, him being there is powerful enough.
Brett Favre torches the Raiders the day after his fathers passing.
(Image via New York Daily News)
The day after his father passing, the always reliable Brett Favre suited up for his Packers, and he absolutely showed up.
Brett threw for nearly 400 yards, 4 TDs, all for his dad. Not only did the Packers win this game, but Brett was nearly perfect on this day which meant so much more than football. To me, this is remarkable, I'm sure Brett had a heavy heart but the fact he was able to go out and perform at such a high level, that is truly remarkable and I'm sure he made his father proud.
Michael Jordan wins Championship on first Father's Day since his dad's passing.
The scene above is MJ on the ground, in tears, following his team beating the Supersonics in Game 6 of the NBA Finals, which won them the championship.
The 72-10 Chicago Bulls' season was obviously an absolutely remarkable one, but it was capped off in the most bittersweet way.
MJ's dad was murdered in the summer of 1993, and this championship in 1996 was MJ's first championship since his dad's passing, and winning a championship on Father's Day, is bound to spark some emotion.
Most people, who have lost relatives, specifically mothers and fathers, often have grieving emotions sparked on these kid of days (Mothers Day, Fathers Day, Birthdays, etc.) To win a championship on one of those tough emotional days, that is just something special and very difficult to push through.
Chris Paul scores 61 in honor of his grandfather
This story is touching, feel-good, and emotionally provoking. Even though this was not accomplished as a professional athlete, I would be negligent to exclude this from my article. While in high school, Paul's grandfather was murdered, at the age of 61. Paul, still in grieving decided to honest his grandfather in one of the coolest ways possible. Chris Paul would score 61 points in this game, one for every year his grandfather was alive.
When Paul stepped up to the free throw line, late in the game, he had 60 points, one shy of his goal. He hit the first free throw for the 61 points, and threw the second one out of bounds and his coach subbed the sobbing Paul out of the game. Paul finished the game with 61 points.
Dee Gordon homers, Marlins win after the death of José Fernandez.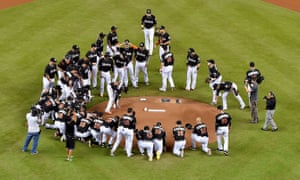 I'll write this story from my perspective. I woke up September 25th, in my college dorm room. Sluggishly I roll over and check my phone, answer a text, and then open twitter. Twitter is exploding with tweets about Fernandez's death, and I'm appalled, I thought it had to be someone else. I actually felt my heart drop reading the tweets and the news, that is what a fan does, gets invested in the players, especially one dominating the game at the time of his death. Regardless of what you think of him following the more recent news of his death, Fernandez was liked guy, especially by his teammates. That is why what happens next is one of the coolest sports moments ever.
Dee Gordon, a purely contact and speed guy, and leadoff hitter for the Marlins, did the most incredible thing I've ever seen in my life.
Wearing Fernandez's helmet, Dee Gordon, a lefty, took the first pitch of his at-bat in the right handed batter's box, a tribute to his late friend.
What happens next, is surreal.
Dee Gordon on a 2-0 count,  homered to right field, his first of the year.
So what IT did last night was remarkable, he wasn't alone, and unfortunately tragedy happens to everyone. I said my warmest regards to IT, his family, and anyone affected by the tragedy. May your sister Rest in Peace.