Carmelo Anthony how the mighty have fallen. At one point, teams would be lining up for a shot to get the superstar forward, now, minimal takers. Granted, Anthony's no-trade clause makes things a little more difficult but the suitors, minimal.
The idea has been tossed around in recent days of the Knicks willing to dump Melo to the Celtics in this coming offseason, as Phil Jackson does not think that the Knicks can win with Melo on roster. Personally, I commend Melo, he is taking the high road on this one, and a lot of the Knicks' issues has to do with Jackson and not Melo, Porzingis does not even want to show up for an exit meeting with the guy.
It was rumored the Celtics staff signed off on agreeing to acquire Melo at the trade deadline.
However it was Danny Ainge who decided to hold back the trade, and for that I commend you Danny.
Personally, I think we all agree the Celtics need another wing player to compliment Thomas and Bradley, along with another true big man, because Horford is great but he would be a much better four. Thomas is a superstar now and Bradley should be included in the future plans for the Celtics.  Crowder is a position that could be upgraded and sending him to New York makes a lot of sense, as he seems displeased anytime someone mentions getting another SF (see his twitter rant after the Celtics cheered for Gordon Hayward). I don't think Crowder would be open to a reduced role such as a 6th man. Also with the way Amir Johnson has played, that position needs an upgrade, Olynk is not starter material nor is Tyler Zeller, so a true big-man is a need.
So getting Anthony makes sense, right? I mean as long as we don't give up a Brooklyn pick, right?
Personally, if I'm Danny Ainge I think there are other options to explore before Anthony and I'll explain why Anthony may be cancerous to the Celtics lockeroom.
In the 74 games Carmelo Anthony played this season, he was fourth in the league in isolation percentage by possession, the season prior to that, he was second. This past season he isolated on average about 6 possessions a game, and 23.1% of the teams total possessions. On the flip side, Isaiah Thomas isolates about 3 times a game and on 9% of the total Celtics possessions. Carmelo scores on 44% of those while Thomas scores on about 52%. So while Carmelo may isolate more, he does not always score with such a phenomenal efficiency, leading some to consider Melo a "ball-hog."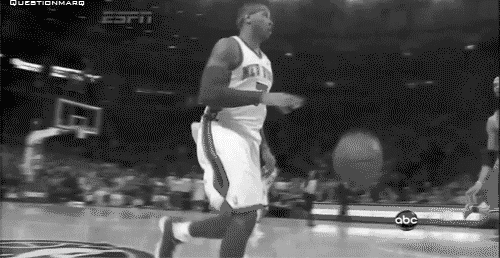 The only problem is, Melo isn't the Melo of old anymore, he's not a superstar, and he has not been able to lead the Knicks to any playoff success. Melo plays very little defense anymore, and the Celtics already have a few defensive liabilities. Thomas being one, he's small, plain and simple and he can't match up with bigger more physical guards, he could not even guard a washed up Rajon Rondo before he got injured. It is hard, nearly impossible, to expect Brad Stevens to from a defensive schematic for 3 defenders.
So what should the Celtics do? I have a few ideas, before they pull the trigger on Carmelo Anthony.
Gordon Hayward
Gordon Hayward, a borderline superstar SF for the Utah Jazz is expected to enter Free Agency this summer, and while the Jazz can offer him the most money, they don't have something the Celtics do, Brad Stevens.
Gordon played under Brad in his time at Butler, nearly beating Duke in the national championship game. Gordon Hayward is younger, entering his prime, and a much better defender. While I don't think Gordon is worth a max contract just yet, if he is willing to sacrifice some money to join a win-now team with a familiar face, a big three of Hayward, Horford, and IT could be in the works.
I mentioned earlier, Crowder probably would not move to the bench as a result of this, so send Crowder for a good, true, big man or some bench scoring.
Jimmy Butler
Before this series against Boston, all signs pointed to Butler getting the hell out of Chicago.
Now there is some question on whether or not the Bulls want to build around Butler, a quality two-way forward, however if the Celtics come back, Chicago may try to move on from Butler.
Insert the Celtics, he would fill a need on this team along with providing good defense. Butler is a great wing scorer and if the Bulls want to part ways with him, the C's got make a call.
Paul George
There is not much too this one, if the price is right and George will come to Boston, you have to make a push, he is already a league superstar.
Now granted, he probably is taking his talents to the Lakers, as he pretty much is 100% done in Indy. However somehow if the Celtics can offer a good haul for George and he will sign an extension here in Boston, it's a trade to make.
Free Agent Options
Serge Ibaka, URFA, Toronto
Nerlens Noel, RFA, Dallas
Otto Porter, RFA, Washington
PJ Tucker, URFA, Toronto
The point is, the options are there for Boston, and I think exploring other options for a former superstar SF in Carmelo Anthony, is a much better idea.
Prediction: Boston signs SF Gordon Hayward to a near max contract, Jae Crowder is traded, trade away 2018 Brooklyn pick