With the NFL Draft right around the corner, it is a little easier to start getting a feel for what teams want to draft, what they want to do with their picks, and who they value and who they do not value. So here is my extremely late NFL Mock Draft.
1. Myles Garrett- Cleveland Browns
To me, there is no doubt that Garrett is deserving of the number one pick in this draft. While Cleveland may need a QB (they've needed one for a good twenty years now) it is hard to pass on a talent such as Garrett who can come in and make an impact right away. He is an all around solid defensive lineman and I think despite rumors upper management wants to draft a QB, Garrett is the guy to take.
2. Solomon Thomas- San Francisco 49ers
With Garrett most likely being off the board, Solomon Thomas would be the next best guy for the 49ers. Thomas fits well into the system and would provide a young pass
rusher for the niners. While rumors are they made trade the pick or take Mitchell Trubisky, if they stay put I like Thomas to go at number 2.
3. Jamal Adams, Chicago Bears
I don't see Chicago going QB here, rather addressing another one of their many issues. Insert Jamal Adams, who many may say he is the most complete and NFL ready player that this draft class has to offer. Adams is a top-10 lock at worst and I think he is too good for Chicago to pass on.  Expect Adams to make an imediate impact.
4. Leonard Fournette, Jacksonville Jaguars
Leonard Fournette is regarded as somebody who could be the next Adrian Peterson. The dude tore up college, literally running through people.
The Jaguars back field has been nothing short of a disappointment. As a temporary fantasy owner of TJ Yeldon I can tell you that for whatever reason he can't get into the endzone, but he runs for yards. On the contrary, Chris Ivory can't rush for yards but can run for TDs. The silver lining? Leonard Fournette does both.
5. Marshon Lattimore, Tennessee Titans
First of all, let it be known I think Tennessee is going to trade down from here, but for the purpose of not getting too much into speculation, I'm going to keep them at number 5. With that being said, Marshon Lattimore fills an unquestionable need for the Tennessee Titans, cornerback. He didn't play much in the 2015 campaign, but last year at Ohio State he was a tremendous corner with 41 tackles, 9 passes deflected, and 4 interceptions. Lattimore's stats last year were amazing as we able to stay healthy despite linger hamstring issues. Look for Lattimore to come in and compete right away for a starting corner slot in Week 1.
6. Deshaun Watson, New York Jets
Lets be honest, the Jets need help at pretty much every position on the football field. Right now the QB's on roster are Bryce Petty, Josh McCown, and Christian Hackenberg who for whatever reason the Jets drafted last year in the second round. To keep it blunt, Petty and Hackenberg suck, and this stage of his career McCown is a good backup. Insert Deshaun Watson, quarterback out of Clemson. There is a lot of question surround his 
arm strength as his top recorded speed was an unimpressive 49mph. However Watson is a winner and that always works out well for NFL QBs (see Matt Leinart, Tim Tebow, Vince Young, and AJ McCarron). All sarcasm aside, this feels like a Jets pick, and for some reason, so put me down for Watson at 6.
7. Johnathan Allen, Los Angeles Chargers
First off, let it be known, typing Los Angeles Chargers was probably the most uncomfortable thing I'll do all day. Now on to Johnathan Allen. Allen is a versatile player which translates well to the NFL. He can be moved around and succeed pretty much anywhere the Chargers choose to line up. This D-Line of Joey Bosa and Johnathan Allen should scare teams for years to come, you know as long as the sign Johnathan Allen before August, but the Chargers have never had that problem before….
8. Christian McCaffrey, Carolina Panthers
What is there not to love McCaffrey, the guy does it all. Coming off an unimpressive season by McCaffrey standards, his talent and his intangibles are second to none in my opinion. In what feels like a nursing home for the Panthers back-field over the last couple of seasons, McCaffrey can come in and add some youth and most definitely make an impact right away. I think some of these players draft sports can fluctuate but I'd say he is a lock at 8.
9. Derek Barnett, Cincinnati Bengals
At 6'3″ and 259 pounsds, Barnett's ability to constantly get to the QB and stop the run may rival with that of the number one overally pick Myles Garrett. Derek Barnett may be just what the doctor ordered in Cincinnati.  With an older defensive line Barnett makes sense here. Cincy also has a need at offensive line that should be adressed, I'm just not sure that there is anyone worth taking at 9.
10. Mike Williams, Buffalo Bills
To me, Mike Williams has great potential. He is a big physical body with finese and speed. My NFL comparisson for him would be Mike Evans, a big bodies WR who can go up and get the football. I think Mike Williams is the best bet, even over Corey Davis. Mike Williams and Sammy Watkins, if Watkins can stay healthy is a deadly duo.
11. Marlon Humphrey, New Orleans Saints
Originally, I had Gareon Conley going here, BUT his new allegations have forced me to update this mock draft. However with that being said I'm going to keep the Saints going corner and taking Humphrey. I'm not wild on Alabama corners, I think they're physically gifted, but do not possess the best coverage skills.
12. Mitchell Trubisky, Cleveland Browns
There really should not be a shock that one of the two first round picks the Browns hold is going to be spent on a QB. I think with Watson off the board, Trubisky is most likely your best choice here despite only starting 13 games in his whole college career. I still
dont think that they would've taken Watson here, but Trubisky falls right into their laps at 12 and maybe be can finally put a stop to this revolving quarterback carousel.
13. Reuben Foster, Arizona Cardinals
I think that Ruben Foster most certainly has top-10 talent. The problem is his off the field issues that have been in the spotlight lately. However, Foster is a perfect fit for Arizona and I have him sliding to Arizona with the 13th pick and the Cardinals elect to not take a QB.
14. Corey Davis, Philadelphia Eagles
The Eagles have multiple issues that need to be adressed, and as I take a look at who is left on the board, Corey Davis makes too much sense. He is my second best wide reciever in this draft class. While you may have never heard of Corey Davis, he is a great talent here and a good fit in Philly.
15. Forrest Lamp, Indianapolis Colts
Lamp is a versatile offensive lineman. He can play guard best however, or at least I think so. He is a sure fire first round talent and it makes too much sense for the Colts to take him here, but yet again, the Colts have screwed it up before.
16.  Haason Reddick, Baltimore Ravens
I think this a quality pick here for Baltimore. He is a very good player, extremely versite, and I think he fits in with the old-school Baltimore culture and he could come in and make an impact right away.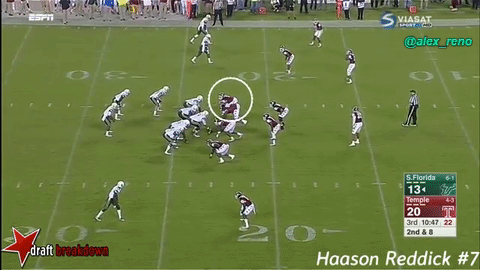 17. Malik McDowell, Washington Redskins
I think the claims of McDowell's physical issues are beyond overblown and while his technique is far from flawless, the Redskins need a guy to replace Baker who left for Tampa this free agency period. Thus McDowell slides in at 17 on my Mock Draft.
18. OJ Howard, Tennessee Titans
I think that the way the Titans offense is set up, you need to look no further than there back field. Murray, Henry, Mariota, all run the football. Howard can block and he is my 11th best propsect available. I haven't seen many mock drafts who put Howard at 18 (MoonlightSwami had him here in his Mock) but I think it is a phenomenal fit.
19. Dalvin Cook, Tampa Bay Buccaneers 
Mr. Cook is staying in Florida. Doug Martin can't stay healthy, has some drug issues, and it is time to change things up in the backfield. You can pair him with another Florida State alum in Winston and I think Cook is a good fit here at 19.
20. Ryan Ramczyk, Denver Broncos
When it comes to offensive lineman, we tend to over look how important they are to a franchise. If you look at Dallas, a ton of Ezekiel Elliot's success is that offensive line, hell they had Darren McFadden run for a thousand yards behind him. With that being said Denver doesn't have a true offensive identity quite yet, but a good starting point is offensive line.
21. Taco Charlton, Detroit Lions
The thing with Taco Charlton is that when you take him, you are betting on his upside. Since Suh left, Detroit has struggled to get pressure on the QB and I think Taco is the best pick for the Lions at 21.
22. Jarrad Davis, Miami Dolphins
Coaches love Jarrad Davis out of Florida and Miami Dolphins fans will too. He will fit in well in Miami and I think he is flying under the radar on a lot of big boards. He gets after it on defense, a great hustle guy, and I like him here at 22. 23. David Njoku, New York Giants
I think this a great pick for the Giants. They have a need at TE, and he could slide right in and make an impact imediatley. He will get his looks as team will be drawn to coverage on Beckham and Marshall. He has great upside and could be a mainstay in the Giants offense for years to come.
24. Tre'Davious White, Oakland Raiders
Quietly the Raiders have a lot of needs. I think their biggest one is cornerback however and as there defenseive wholes fill, their Super Bowl opportunity grows. Everybody knows they have a high powered offense and only getting better as they acquired Marhsawn Lynch today. I like White here, I think it is a no-brainer.
25. Patrick Mahomes II, Houston Texans
Patrick Mahomes may be a reach at 25 but Houston needs a QB and he is by in large the best one left in my opinion. He is my second best QB, but he is also one of the riskier ones. Mahomes has thrown for a shit ton of yards in college and pairing him with Hopkins and Fuller (if he can develop hands somehow) would be a deadly offense, IF and only IF they give Mahomes time to grow into his own.
26. Cam Robinson, Seattle Seahawks
Assuming they don't part ways with Richard Sherman just yet, they could use plenty of offensive line help or I fear Russell Wilson may die this season. Seriously though, Cam Robinson has his question marks but they oppurtunity to get him and play some tackle seems like a good call here at 26.
27. Deshone Kizer, Kansas City Cheifs
By no means does this draft class merit 4 first round quarterbacks, however there hapen to be plenty of teams who need one. Alex Smith is not your franchise guy so Kizer at 27 to Kansas City, but I don't think Kizer merits first round selections.
28. Kevin King, Dallas Cowboys
I think Dallas needs some extra secondary help and while they don't have a massive whole, I think Kevin King out of Washington can make it happen in Dallas. Normally, I would say Sidney Jones should go off the board right now, but his injury concerns me.
29. Adoree' Jackson, Green Bay Packers
Adoree brings so much versatility to the table it is hard not to love him. I'm a die hard USC Trojans fan for whatever that is worth to you, but aside from getting burnt in the Rose Bowl, Adoree' has the talent to succeed in the NFL and Green Bay does not have the secondary to compete right now.  I liked TJ Watt here too but for now I'm going to go with Adoree' Jackson.
30. TJ Watt, Pittsburgh Steelers
The younger Watt brother is headed to Pittsburgh. I think this pick makes so much sense even though it feels as if James Harrison is age-less and doesn't have retirement in his vocabularry. I personally am pretty high on Watt and love him here at 30 to Pittsburgh, even if it means compromising some secondary help.
31. Takkarist McKinley, Atlanta Falcons
This is a safe pick for Atlanta and while there defense performed well down the stretch, you can get a good edge rusher this late, why not take him? So McKinley to the Super Bowl runner ups.
32. Derek Rivers, New Orleans Saints
Picking in the Patriots spot is New Orleans from the Brandin Cooks deal. Derek Rivers is a slept on edge rusher who I love a lot. I'll have the video below of his highlights but this dude can flat out play and falling to 32 is a hell of a player that can make a significant difference on that Saints defense. He only falls this far because of the school he went to.